A look inside BringShare's Email Marketing Dashboard
What does it do?
Our email marketing dashboard integrates with all of your digital marketing tools in order to provide you with your full email marketing picture from email sends and opens to clicks and website visits that generate revenue or conversions.
How does it work?
BringShare integrates with MailChimp to bring you all of your email-specific analytics like emails delivered, opened or clicked, while pairing them with website-specific information like revenue and conversions from Google Analytics.
What can I do with it?
Easily view your email marketing information side-by-side with Google Analytics website performance metrics
Understand how email marketing as a whole has impacted your business by viewing an aggregate total of every email you have sent over any specific date range -no longer are you limited to viewing your email marketing results on an email-to-email basis
View the aggregated total of all emails delivered, number of email opens, clicks, forwards, bounces, unsubscribes, spam reports, average time on site, visitor bounce rate and conversions
Quickly view your cost CPA (cost per acquisition), Conversion Rate or ROI (return on investment) for email campaigns in any particular date range
Leverage the BringShare Funnel Performance Diagram to compare up to five emails and easily determine which campaigns perform best in each portion of the email marketing cycle
View the highest open percentage, indicating the best subject line of the emails you have sent
Understand which email you sent had the best content by viewing the highest click percentage
Know which email performed the best in terms of revenue or conversions and conversion rate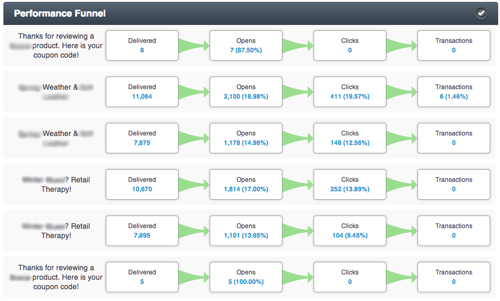 Free 14-Day Trial