A look inside BringShare's Search Engine Optimization Dashboard
What does it do?
Our SEO Dashboard allows you to quickly and easily keep tabs on all things SEO related to your company -from the keywords and competitors you are actively tracking, to the keywords that are actually sending the most organic traffic to your site and that are driving conversions/sales.
Quickly and easily generates PDF and print Search Engine Optimization reports that include every important SEO statistic you need.
How does it work?
BringShare allows you to integrate with your Google account to help you understand which keywords are actually driving visits and revenue/conversions to your website.
The Paid Search Dashboard also allows you to enter the SEO keywords you are optimizing around so that you can see how your rankings change over time and how those keywords drive visits and sales/conversions.
Lastly, you can input up to 3 competitors to view how your SEO rankings over time trend against the competition.
What can I do with it?
Quickly view your Search Engine Optimization (SEO) conversion rate, SEO Return on Investment and SEO Cost per Acquisition with the click of a button
View your overall SEO performance and the top performing search engines by website visits, daily unique visits and conversions or revenue for any date range
Compare top search engines including Google, Yahoo, Bing, Ask.com, Google Images, AOL, Baidu and more
Track up to 25 keywords to understand your SEO progress on:
Your rankings for the SEO terms you have identified and are working to optimize for
How you compare to your top 3 competitors to identify how you rank against your competition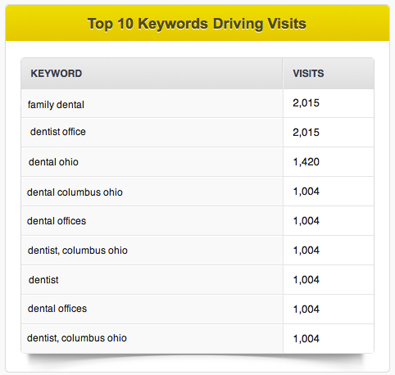 Understand which keywords are actually affecting your bottom-line and driving traffic to your website in the "Best Performing Keywords Section"
View Top 10 SEO Keywords by visits
View Top 10 SEO Keywords by Sales Revenue or Conversions
Easily organize and sort your top performing SEO keywords in BringShare's top keyword table by SEO visits, daily unique visits and sales revenue/conversions
Sign up for a Free 30 day trial